At Northland Carpet Care, we pride ourselves in being able to offer our clients professional, courteous service, as well as professional tile and grout cleaning. You will experience the same quality and professional service for your tile and grout cleaning that you have come to expect from the highly trained professionals at Northland Carpet Care.
If you would like to request further information about our tile and grout cleaning service, or to schedule an appointment, please call 416-574-9000 us or send us an email today.
Tile and Grout Cleaning
Northland Carpet Care now cleans tile and grout. We can restore your tile and grout regardless of the age. Our tile and grout cleaning services include steam cleaning to remove stains and colour from deep within the grout and sealing the grout to prevent future stains.
We offer a quick, professional solution to stained and discoloured tile and grout floors. Our grout cleaning process can erase the stains and discolouring you aren't able to clean with regular household cleaners.
Using cutting edge technology to clean and restore tile floors, we can restore your tile and grout floors to their original condition.  We specialize in cleaning and sealing to match your grout colours.
In the case of older existing ceramic floors, we can restore the grout back to its original condition and colour.  Our special cleaners and colour sealers will restore your tile and grout to just like new condition.
Our Goal is your complete satisfaction. We hope to exceed your expectations by providing fully trained technicians to deliver the best, most courteous workmanship available in the business. We ensure 100% customer satisfaction.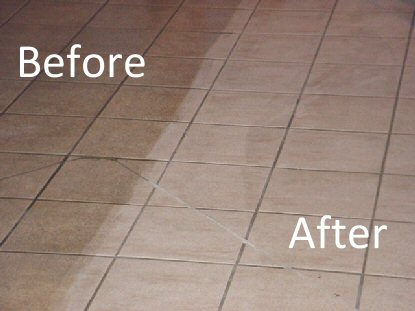 Steam Cleaning
Over time ceramic floors will develop stains on the grout and tiles. This can be very difficult and stressful for most homeowners to clean without the proper tools and cleaners. Northland Carpet Care can steam clean most ceramic floors. We can also apply a clear penetrating sealer to protect the grout/tiles if required.
At Northland Carpet Care, we make certain our qualified cleaners provide the best tile and grout cleaning services possible to you, our client. To prove our point, we offer you our Satisfaction Guarantee.
Serving Toronto and the GTA for over 25 years!
Northland Carpet Care was started in 1993 by John, and he runs the company to this day. His dedication to providing excellent, efficient, and affordable service hasn't waned since the company's inception. In fact, he has recently added the service tile and grout cleaning, to those already offered by Northland Carpet Care.
At Northland Carpet Care, we want to be certain that every one of our clients is able to live in a clean and healthy environment, free of mold, mildew, dust, pollen, and other environmental agents that can lead to allergy and illness. We also want to be certain that our clients' property, whether rug, carpet, or kitchen tiling, remains vibrant and beautiful for years to come. That's why our experts are trained to the highest industry standards, and why we use only environmentally friendly cleaning products, which have been rated safe for use in both residential and commercial settings.
And above all, we want our clients to be happy. Whether the job is large or small, we'll do it right the first time, satisfaction guaranteed.
Give us a call 416-574-9000